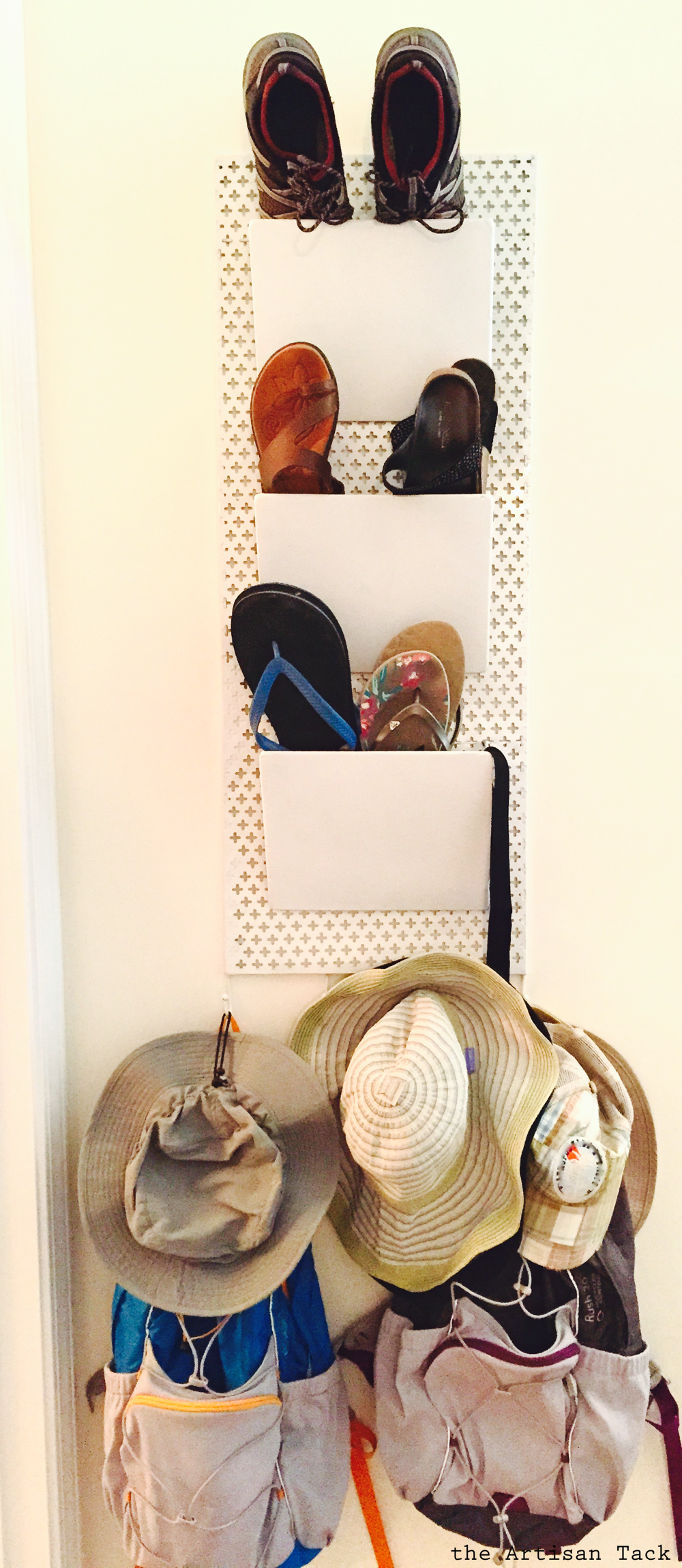 Narrow Spaces
I went from living in 950 square feet to a meager 504 this past spring. It's amazing how quickly you can learn how to use every inch of space for storage. Living with narrow spaces and very little square footage makes every inch of floor invaluable. Especially when you're number one enemy is clutter! I try my best to keep storage against walls, in small nooks, and up high- mostly to avoid that claustrophobic elevator-esque feeling.
The Search
My past few visits to HomeGoods consistently led my gaze to wall mail organizers. I might spend the going rate (about $24.99) on one of these beauties in a rush of impulse, but I'd much rather wait out the clearance section.
Luckily, on my last trip to the store, I found this white metal mail organizer. It was stuck underneath a pile of clearance items. I had to dig for it! Well worth it. Originally $19.99, I paid only $8.00! Definitely check the clearance section FIRST!
This one had a small scratch on the face of an envelope. I didn't even notice until after I hung it. If you find one that's a little out of shape just throw on some spray paint.
Sometimes there's no time to get to the store and hunt for sales or clearance items. I totally understand. If you love this idea, but have a packed schedule, do a quick search online instead. Here are some places to check online and compare prices: Amazon, eBay, Target, The Container Store, Etsy.
Measure Twice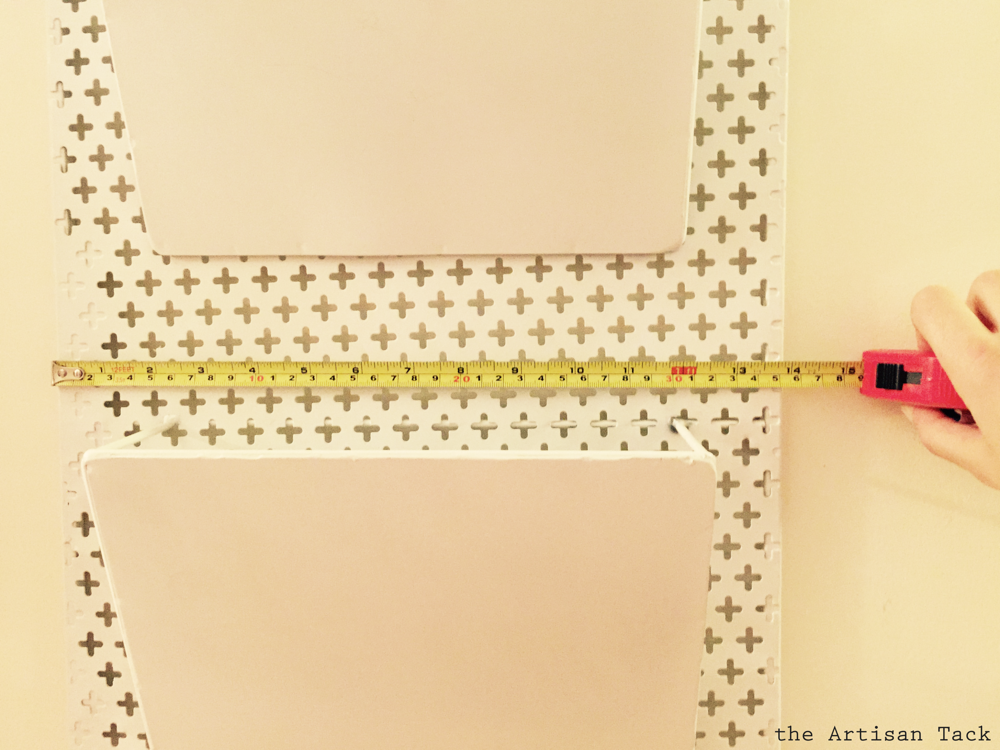 Make sure to measure the wall area you're using, and the width of the mail organizer.
It'll be easier to center if you have these measurements. Subtract the width of the organizer from the width of the wall, then divide the result by 2. That gives you the amount of space on each side of the organizer. Before drilling, measure marked spots at least two times.
An example: Let's say you have 30 inches of wall space and the organizer is 18 inches wide:     30 – 18 = 12. Then divide: 12 ÷ 2 = 6. So that leaves 6 inches on either side of the organizer. Now you can measure 6 inches in from each side of the wall, and gently mark with pencil.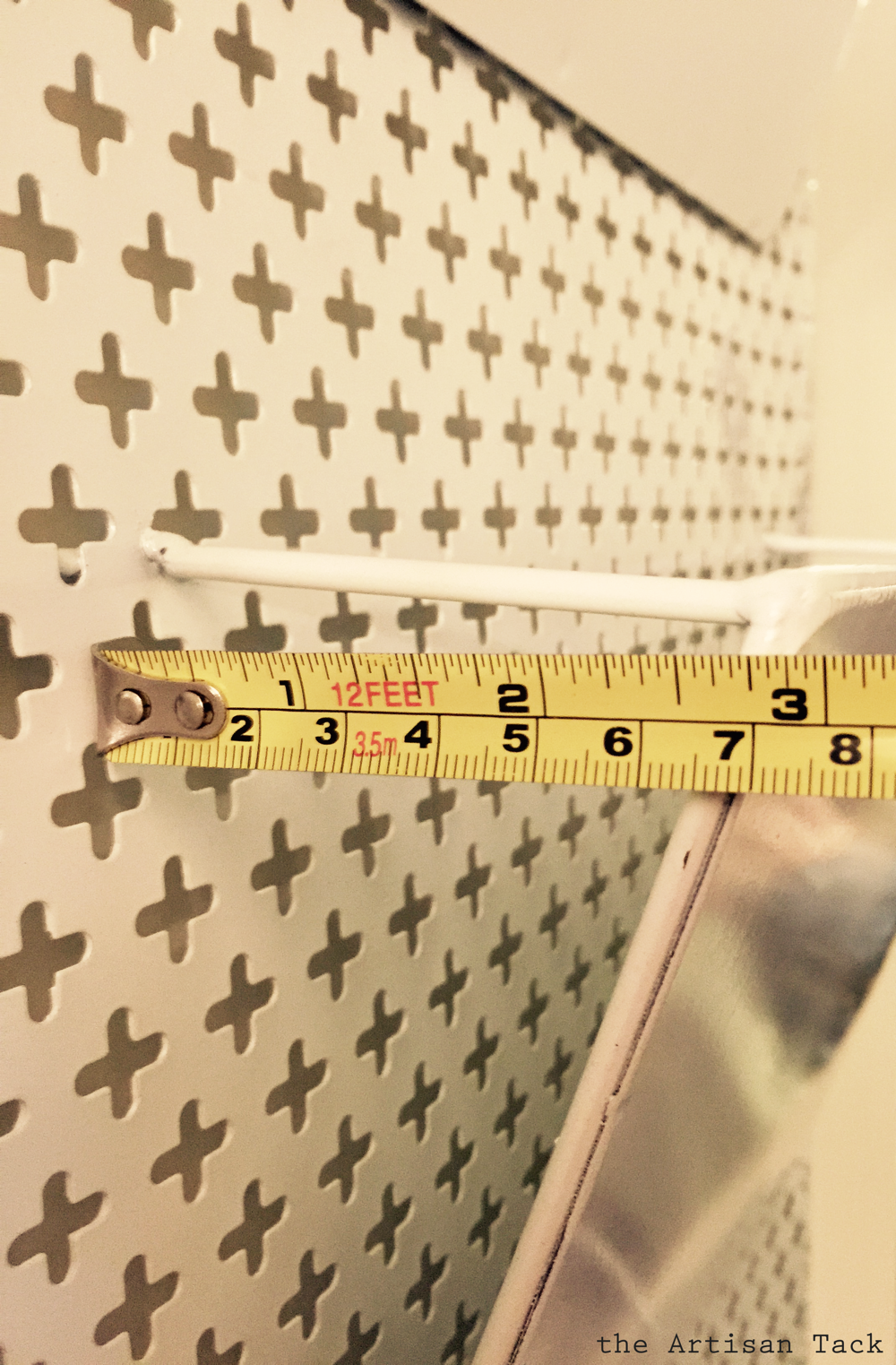 For tight spaces, be sure to measure the depth.
I wanted to make sure it wouldn't jut out too far, since it was going up right before the bathroom doorway. Depending on the space you choose, this may or may not be an issue.
This piece was the perfect fit for this space. It doesn't stick out any further than the trim on the bathroom door. Also, my husband is incredibly klutzy, so I try my best to come up with solutions that won't endanger him any more than he is prone.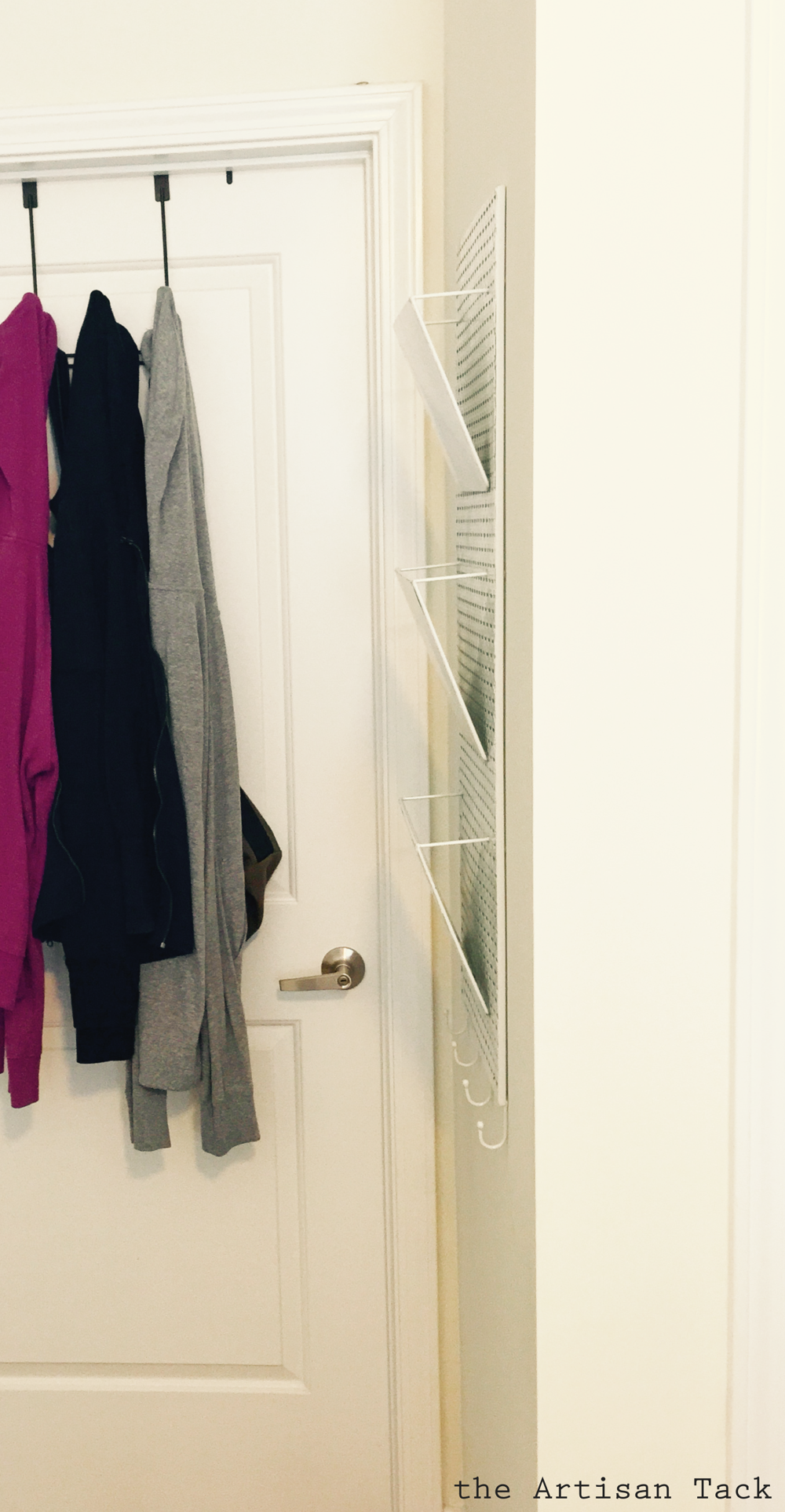 I am a HUGE fan of over-the-door hangers, too. As you can see- there's one on the outside of the door, as well on the inside. The inside hooks were a quick fix for hanging bathroom towels!
Get out the Drill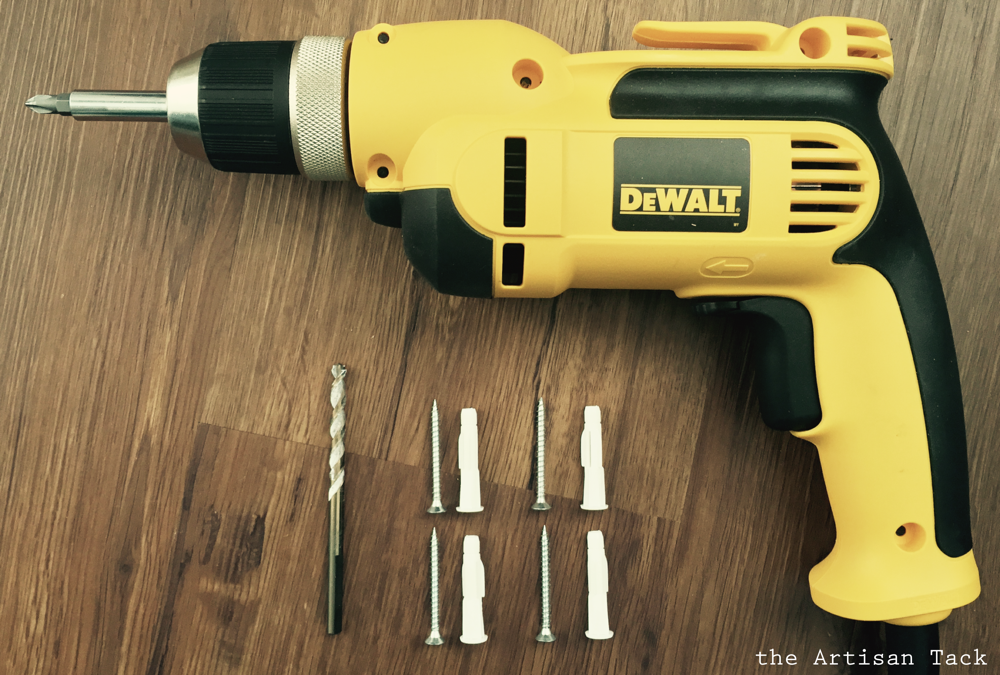 Materials for Drywall:
drill
flathead screws
plastic drywall anchors
drill bit
mallet (or hammer)
Materials for Stud:
Depending on the organizer, the hanging hardware may vary. My organizer had two keyhole hangers on the top, and then I added 2 screws with anchors through openings near the bottom (image below). You may or may not need anchors- this all depends on where your screws are going. For drywall you'll need anchors, but for drilling into a stud you'll just need to drill screws directly into the wall.
Mark the wall with a pencil and measure accurately- twice. I mark an "X" and hold the drill perpendicular to the floor. Otherwise, you'll end up with crooked screws.
I used a 7/32 drill bit for the anchor holes, then hammered the anchors in with a mallet. You can use a hammer to do this, but be gentle- plastic anchors can easily split or break.
Then, I drilled 2 inch flathead dry wall screws into the anchors, leaving the screws sticking out about 1/16 inch. After I hung the organizer, I marked 2 spaces near the bottom (through the openings of the metal pattern) and repeated the process.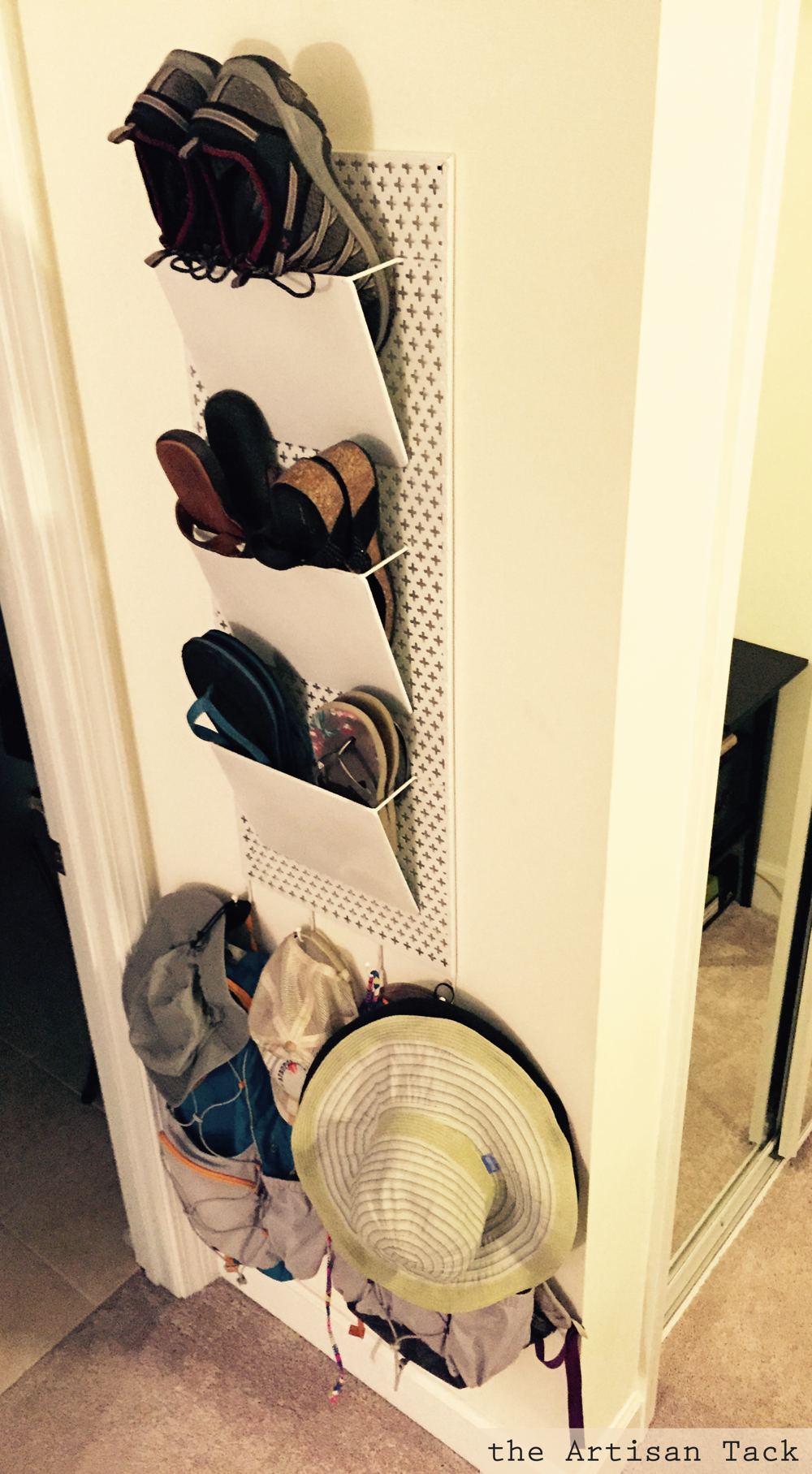 Small Spaces Conquered
Here, you can see my bathroom doorway (left) and the small space between my closet and bed (right). I am so thankful for the mirrored doors on the closet- no worries about trying to find room for a full-length mirror!
But just imagine, half of that closet is my entire wardrobe. Basically, half of a standard closet rod is what I have to hang clothes. Seems impossible. Luckily, I'm always figuring out different ways to play Tetris with all of our things.
With this shoe storage and the bottom hooks, it makes having little closet space so much easier. Hopefully this idea helps, or at the very least, inspires your organizational creativity!