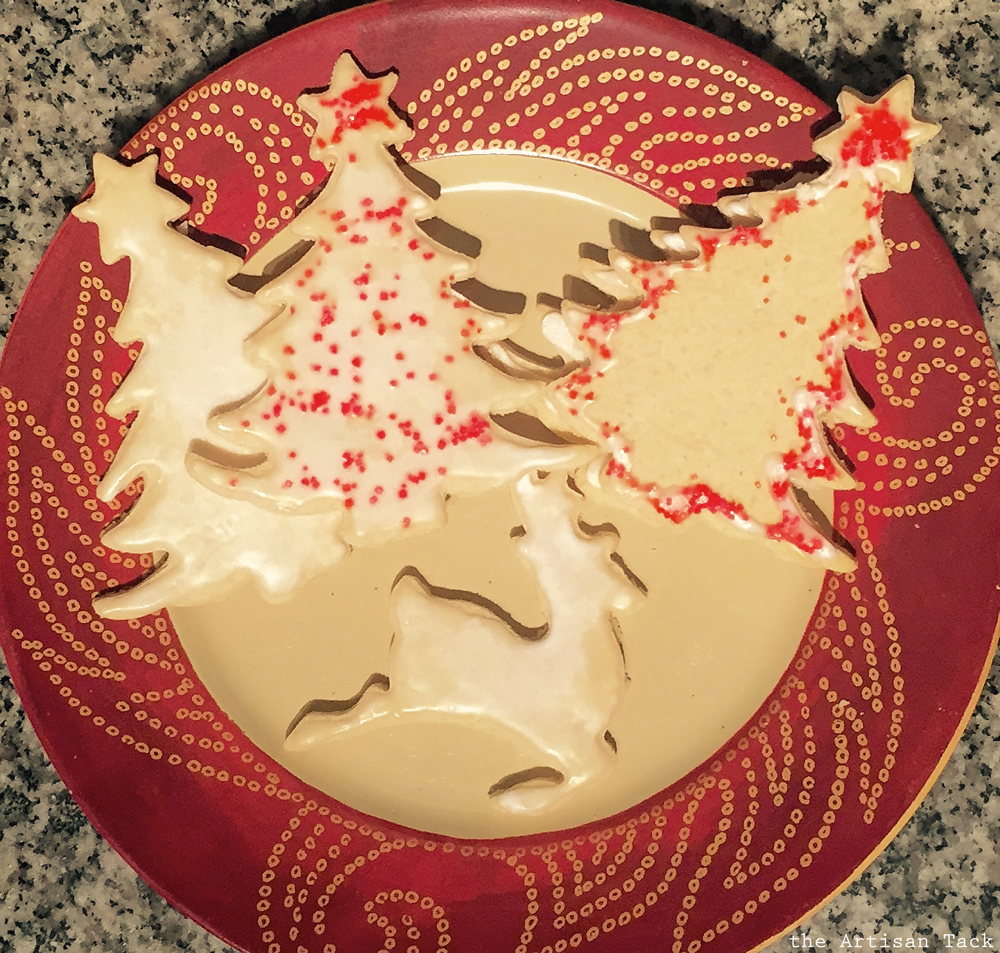 Believe it or not, these are gluten and dairy free! They taste just like a typical wheat-flour sugar cookie. Buttery and soft, like a sugar cookie SHOULD be!
---
Third Time's a Charm
When I first started out baking gluten-free, I used all-purpose flours a LOT. It's been well over a year since then, and I definitely don't use them anymore! Only raw ingredients for me- rice flours, sorghum flour, tapioca starch, etc. I figured out using a blend of different flours had better results than just throwing in an all-purpose flour. You don't really know how much of each flour or other ingredient they use (baking soda, xanthan gum).
These are the cookies I baked with the all-purpose flour a year ago. They look pretty good, right? They were definitely a success for me at the time, but I was such an amateur! I tried out 2 more sugar cookie recipes just this past week, the latter was my own version of a recipe I found online. My adaptation turned out perfect! That's why it's the (hard e sound) sugar cookie recipe.
---
Sweet & Simple
I'm sure there are plenty of people who love to use all-purpose flour blends- and that's great. Seriously, I get it. Sometimes you just don't have the time or energy to mix up a bunch of different flours! But, if you DO have the time, it is SO worth it!
This recipe is pretty basic, and you can find the original recipe here. I did major adjustments to the flour blend, so it is a completely different cookie. I found the original recipe not quite up to my sugar cookie standard. The dough was hard to work with, and the cookie didn't have the right buttery, flaky texture I'm used to. With a few tweaks and additions, I changed the flour blend to create a tasty cookie.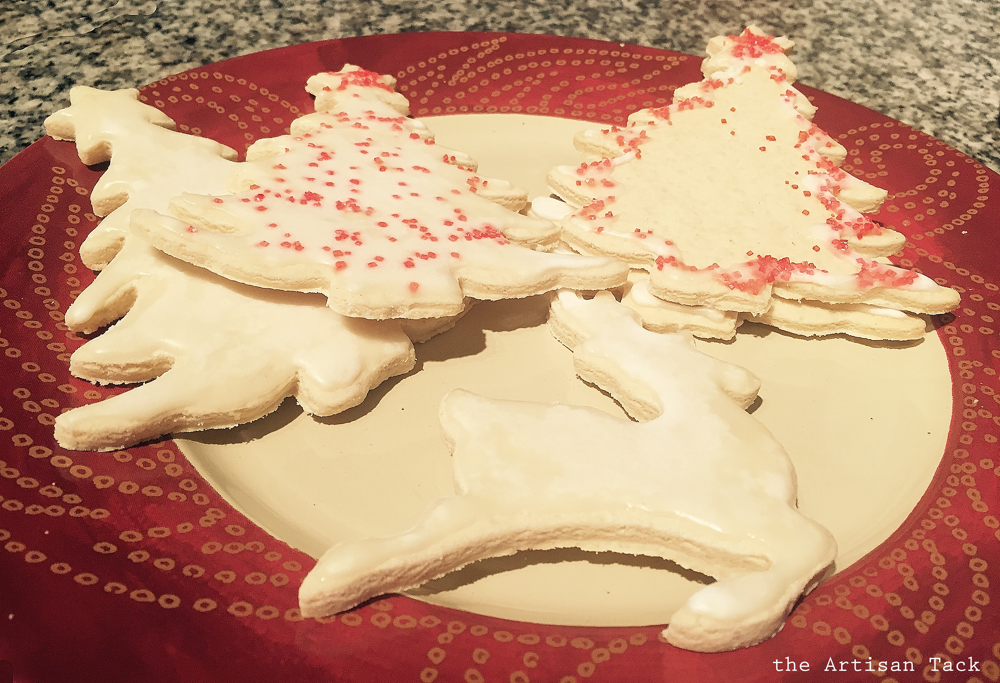 ---
The Recipe
Cook Time
Prep: 1 hr 20 mins          ♦          Cook: 12 mins          ♦          Ready: 1 hr 32 mins
Yields: 12 – 16 cookies
Ingredients
♦ All ingredients should be at room temperature before you begin ♦
· 1/2 cup dairy-free butter (I use Earth Balance)
· 1 cup sugar
· 2 large eggs
· 1 1/2 teaspoons vanilla extract
· 1 1/4 superfine white rice flour (plus 1/4 cup for rolling out dough)
· 2/3 cup superfine brown rice flour
· 2/3 cup sorghum flour
· 1/3 cup tapioca starch
· 1/3 cup potato starch
· 1 1/2 teaspoons baking powder
· 1 1/2 teaspoons guar gum
· 1/2 teaspoon salt
Icing Ingredients (optional)
· 1 cup powdered sugar
· 2 tablespoons coconut milk (use more or less, depending on how thin you want the icing)
Instructions
1. In a small bowl, use a hand  or stand mixer to cream dairy-free butter and sugar on low for 2-3 minutes. Add eggs and vanilla, blend until smooth.
2. Whisk remaining ingredients in a large bowl until uniform. Slowly add in wet mixture using a spatula, or paddle-attachment on stand mixer.
3. Form dough into a disc, cover with plastic wrap. Refrigerate at least an hour.
4. Remove dough from refrigerator. Preheat oven to 350° and line baking sheets with parchment paper.
5. Divide dough in half. Cover dough with plastic wrap and roll out on flour-dusted parchment to a little more than 1/4″ thick. Make cut-outs with cookie cutters. Dust a metal dough scraper (click here to see the one I use) with flour, using it as a spatula, gentle slide underneath cookie cutouts and move them to baking sheet.
6. Repeat step 5 with remaining dough and scraps. If the dough becomes too soft, wrap with plastic and place in freezer for 5-10 minutes.
7. Bake cookies for 12 minutes, until slightly golden on edges. For a crunchier cookie, bake 1-2 minutes longer. Allow baking sheets to sit on cooling racks for 10 minutes before moving cookies.
8. For icing, whisk powdered sugar and coconut milk in a small bowl until smooth. Add more milk for a thinner icing. To pipe icing, pour into a plastic bag and cut a small opening at one corner. Use a small spatula to spread icing on cooled cookies (allow cookies to cool for at least 30 minutes).
---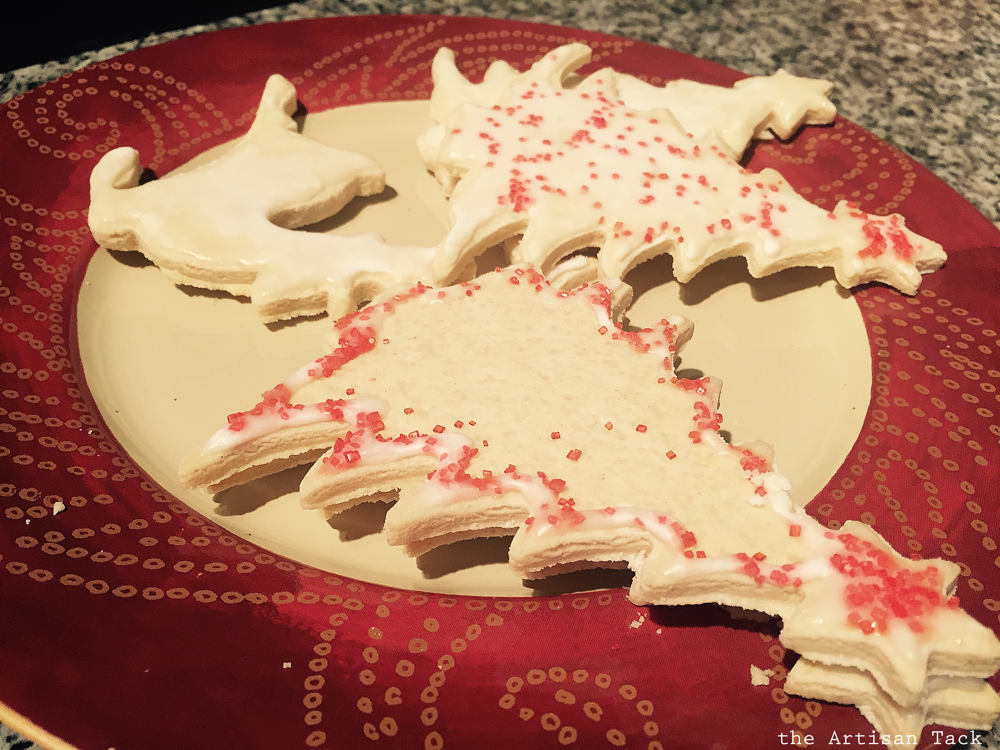 Becoming Scarce
There are only a few of these cookies left after Christmas. And, to be completely honest, I've probably eaten WAY more of them than Evan! But it's winter and the holiday season, right? What better time to gain a few pounds from delicious Christmas cookies! I'll continue to bake, and push away that immense feeling of guilt that creeps in every time I sneak another cookie.